PSSRA General Membership Meeting and Luncheon – April 2023
Please join us for our April 18th 2023 PSSRA General Membership Meeting and Luncheon.
We will meet from 1130 – 1330 on Tuesday the 18th at The Baymont Inn & Suites located at 5640 Kitsap Way Bremerton WA 98312.
The PSSRA Membership Meeting is proud to announce our speaker for the month of April will be Captain James (Jip) Mosman. Captain Jip Mosman assumes duties as the Commander of Puget Sound Naval Shipyard & IMF.
Ed Zajonc will be speaking to the group regarding main talking points at the National Ship Repair Industry Convention (NSRIC).
Please RSVP to PSSRATeam@gmail.com so we can acquire an accurate count of the expected participation for the luncheon. It's Very Important to RSVP for the Luncheon so we don't miss putting anyone's name down on the Luncheon list for the caterer. The cost of lunch will be, PROVIDED BY THE PUGET SOUND SHIP REPAIR ASSOCIATION.

We look forward to seeing you there.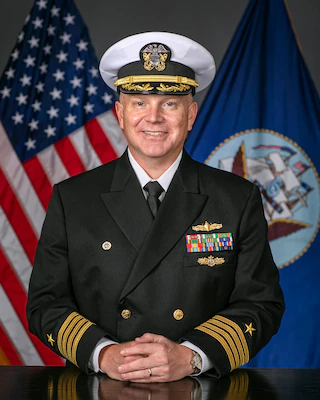 Commander, Puget Sound Naval Shipyard & Intermediate Maintenance Facility
Captain Jip Mosman is currently serving as the 51st Commander of Puget Sound Naval Shipyard & Intermediate Maintenance Facility. Mosman also commands Northwest Regional Maintenance Center.
Mosman was born and raised in Granby, Colorado. He attended Colorado State University where he earned his Bachelor's Degrees in Applied Mathematics and Physical Sciences. After graduating from CSU in 1997, he entered the Navy as a Nuclear Propulsion Officer Candidate and attended Officer Candidate School in Pensacola, Florida.
After completing the Naval Nuclear Propulsion training pipeline, he served aboard USS Nimitz (CVN 68) during its Refueling Complex Overhaul and later transferred to USS Ingraham (FFG 61) where he deployed to the Persian Gulf and participated in Operation Enduring Freedom.
In May 2003, Mosman transferred to Massachusetts Institute of Technology to obtain his Master's degree.
From August 2006 to October 2008, Mosman served at Puget Sound Naval Shipyard & Intermediate Maintenance Facility on several aircraft carrier and submarine projects. He also served as the Deputy Business Operations Manager prior to his transfer to USS Enterprise (CVN 65).
From November 2008 to November 2010, Mosman served as the Electrical Load Officer aboard Enterprise for the last scheduled Extended Dry-Docking Selected Restricted Availability. In December 2010, he transferred to Ship Repair Facility-Japan Regional Maintenance Center, Yokosuka, as the Repair Officer and, later, as the Engineering and Planning Officer.
In October 2013, he transferred to Commander, Naval Air Force, Pacific as the Force Maintenance Officer.
He joined the USS George Washington (CVN 73) crew in September 2015 as Chief Engineer. While aboard George Washington, he managed two hull swaps, a transit around South America, numerous carrier qualification detachments, and the transition to RCOH.
In August 2017, Mosman transferred to Norfolk Naval Shipyard and served as Production Resources Officer and Operations Officer. He led the shipyard to complete numerous ship and submarine repair, modernization and maintenance periods despite challenges including the impacts of several hurricanes and the COVID-19 pandemic.
He reported to Naval Sea Systems Command, Industrial Operations Directorate in September 2020 and to PSNS & IMF in November 2020. Mosman is authorized to wear the Meritorious Service Medal (four awards), Navy Commendation Medal (three awards), the Navy Achievement Medal (three awards) and various unit and campaign medals.