NISRIC Navy Day – Notes by David Jack
Our morning started with an exciting line up of speakers lead by the Chief of Naval Operations, Admiral Greenert, followed by the Commander Fleet Forces Command, Admiral Gortney and Commander Naval Sea Systems Command, VADM Hilarides.
The afternoon sessions were kicked off by RADM Shannon, Commander Military Sealift Command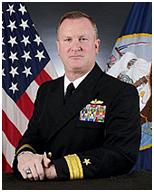 Admiral Shannon opened his remarks with insights into the many ways MSC is supporting the Navy mission. He stressed the great value he places on maintaining the relationship between MSC and the ship repair and ship building industries. He views these relationships as ones in which we both need and support each other. He then went into some detailed information regarding MSC assets and mission support capabilities. He stated that on any given day, MSC is tracking over 110 vessels and that during surge periods; this number can grow as high as 175. Next he highlighted the recent successful conversion of USNS CAPE RAY. His comments were very favorable of the ship repair industry companies involved and the skills displayed during the conversion.Because of the outstanding efforts of those involved, mobile chemical weapons destruction capabilities were added to the country's arsenal of tools used for global peace. He also talked about how MSC and MARAD are combining missions in many areas as they continue to grow and support their customers. He stated that since 1949, MSC has grown from two basic missions to more than 20 currently. The demand signal for MSC vessels is growing. He has heard from the Chief of Naval Operations, Vice CNO and Commandant of the Marine Corps all echoing the importance of the role MSC plays in their maritime strategies. He is working hard to respond to the increasing needs and meets regularly with fleet commanders to discuss specific challenges and MSC solutions. He has seen a recent spike in "special mission" ships such as MLP, AFSB and JSHV. He disclosed that there are plans in the works to inactive two of the four current AOEs, and that he is worried that MSC will be significantly challenged in supporting core mission areas as the Navy continues to grow smaller. Next, he highlighted changes over the past year which included Headquarters consolidation, optimized FRP, JSHVs aluminum welding and ship fitting skill sets, water jet maintenance, annual dry-docking requirements, increase in oil production which is leading to increase for tankers and off shore craft. He stated that there are currently 85 US flagged tankers, and 15 MSC TA-Os. This all equates to more maintenance and increased competition for dock space. He also talked about the repurposing of platforms. In the manpower department, he talked about the more than 600 MSC employees on the east coast and how they will be consolidating resources to Norfolk over the next five years. He expects MSC to be leaner and more efficient when this consolidation is complete. He briefly talked budget where he discussed that $583M was spent in 2013. In the coming year, FFP contracting, sequestration and declining budgets will mean more competition for both new construction and maintenance dollars.They are working on out year engineering requirements analysis, which identifies essential and beneficial upgrades, allows for budgeting/ planning for operations past the service life of their vessels (which averages 45 years). This will consist of three phases: logistics supportability study, hull and structural analysis and shipboard survey process. Lastly he went over maintenance planning (government owned/government operated) for Standard Logistics Ship overhaul cycle which includes: dry-docking every 2.5 years, mid-term availability every 18 months, quarterly voyage repair availabilities, inspections and surveys at regular intervals and continuous ABS surveys (5 years) and USGC inspections annually. He then went over the government owned/contractor operated maintenance plan which includes dry docking every five years, shortened to every 3 years as needed to support sponsor cargo requirements and every 2.5 years for CONSUS reduces operating status ships. Also there will be inspections and surveys at regular intervals to include ABS every five years, annual USCG inspections, annual internal safety inspections and management system audits.
Our next speaker was RADM Gale, NAVSEA 21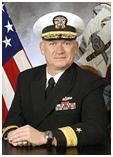 Admiral Gale started off his presentation with a slide covering his "six big rocks" which include, assessment plan/policy, sustainment program, SURFMEPP, RMC capacity/capability, availability execution/Work Certification and alignment/oversight. He then addressed feedback from the CNO regarding frustration with surface ship maintenance. He is very involved in an improved assessment process and stated that the Total Ship Readiness Assessment (TSRA) program is alive and well. Next he talked about Integrated Sustainment and how the focus is on core life cycle solutions. He gave a briefing on progress within the SURFMEPP program stating that the organization is now 241 employees strong and has been working hard on technical foundation plans, base maintenance plans (BMP), the reconstitution of the "I" level maintenance activities, work force development within the RMCs and continuing improvements in the Joint Fleet Maintenance Manual (JFMM). Regarding "Alignment Oversight" he talked about JFMM changes, RMC policy standardization, risk management and discussed SEA 21 realignment around modernization and sustainment. Next he discussed SURFMEPP efforts which included SPM, modernization programming, maintenance/modernization integration, contract strategies, planning yard roles, RMC functions which covered execution planning, IPTD/PMR, lifecycle management and current readiness. He stated that "about half of the availabilities are not long enough to accomplish the work scheduled. RMCs are now planning long range requirements into the availabilities. They "integrate, execute, document, and provide feedback." He commented on maintenance and modernization planning and execution, stating that there are two governing policies, multiple independent milestones, imprecise integration requirements and excessive opportunities for variance in interpretation and execution. He stressed the importance of getting a lock on the availability work package, and the need to plan and integrate surface maintenance and modernization sooner. He also addressed new contracting strategy stating "the Navy will be implementing a family of contract strategies utilizing FFP where possible to meet surface ship maintenance, repair and modernization requirements." They are looking at "single award IDIQ type contracts" where availabilities will be fixed price. He talked about how third party planning enables this contract strategy. He is considering "national planning contracts." He fielded a question about whether the Navy would continue to consider ABR/MSR certifications for pre-qualifying ship repair companies. He responded that he believed this program should be resurrected. He also took a question about the role SPAWAR plays in the RMC/SEA 21 effort. He replied that he felt that these activities were now working more effectively together. He highlighted recent issues with CANES installations and stressed that use of third party SIDs must be discontinued as they were causing problems in execution.
Our next presentation was by RDML Galinis, Commander Naval Regional Maintenance Centers.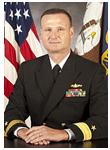 Admiral Galinis opened his remarks by laying out the CNRMC "Action Plan." This was comprised of the following key elements: Tactical, Operational, and Strategic. Under the "Tactical" element he discussed the need for integrated project team development, RMC policy standardization, work force development, cost engineering and analysis, TSRA, and quality assurance initiative implementation. Under the "Operational" element he covered "End to End" policy/process oversight review, JFMM, need to develop actionable/credible surface ship maintenance and modernization metrics, need to coordinate Afloat Training Group (ATG) surface force readiness manual changes, TSRA activities and continue to work on RMC capacity and capabilities. Under his "Strategic" element he talked about a National Contracts Strategy , and the need to support the Amphibious Response Group (ARG) which has been deployed to Mayport, Florida, the forward deployment of Naval forces in Rota Spain and PC/MCM support needed in Bahrain, LCS maintenance strategy, and need to integrate SURFMEPP. Next, he discussed his priorities which included: engaging the six big rocks, decreasing CASREP/Fleet Technical Assists, and increasing shipboard technical expertise and QA oversight. He commented that he feels RMCs are still about 10% undermanned. He is looking at "right sizing" the availabilities based upon budget, historical execution times and actual costs. He discussed FY15 availabilities and how about 50% are too big to accomplish within their budgets and schedules. He talked about the impacts of late identification of growth in availabilities and cited a recent availability where they saw 50% of the growth identified more than 50% into the availability. He is looking at being consistent across the RMC enterprise in the way growth is included and funded upfront. He is not satisfied with the way that integrated project schedules are being progressed. He made a comment that the Navy is running at about a 30% growth rate which is above the target range of 15 to 20%. He acknowledged that it is taking about three weeks for a typical Request for Contract Change (RCC) to be processed and that this is "way too long." He also talked about the need to maintain responsiveness during transition to new contracts strategy. He discussed the need for long term relationships and effective communications with industry. He felt that there is a lot of room for improvement and change needed. From his perspective, the ship repair activities are "world class" and are the best at what they do. He believes that industry has the technical excellence needed to serve the Navy's maintenance requirements. He stated that the defined priorities for the Naval Shipyards are "Safety," "Quality," "Cost" and "Schedule," in that order. Lastly he talked about his "focus areas" for 2014 which included stabilizing availability schedule performance, cost stabilization of private sector availabilities, proper resourcing of RMCs and improved communications across the enterprise with Navy customers. He stated that they are on a path to be up to almost 2700 sailors at Intermediate Maintenance Activities (IMA) by the end of the year. He also talked about the need to renew actions to identify, evaluate and implement contracting changes that improve execution of surface ship maintenance. Lastly he spoke of the need to establish forward deployed ship support activities in Naples and Rota.
Our next speaker was RADM Rabago, Assistant Commandant for Engineering and Logistics, USCG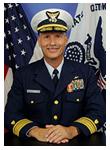 Admiral Rabago began his remarks with a review of the Coast Guard's roles and missions. He began with Maritime Safety role which encompassed marine safety, and search and rescue missions. Next he went over the Maritime Security role which includes drug interdiction, undocumented migrants and defense readiness missions. He then addressed concerns which started with the Coast Guard's expanding mission requirements and increased operational tempo. He spoke of the difficulty of maintaining mission readiness with declining resources and of the need to bring new assets into service to support the expanding mission roles. He also stated that they need to integrate more complex maintenance into their processes which is hampered by a significantly aging fleet. He made a comment that they have some ships that are approaching 70 years old, and that most of their ships are "well beyond their design service life." Next he went over the USCG maintenance support transformation to "product lines." He stated that they use an integrated baseline, electronic asset log, maintenance funds, allowance list and are "pushing parts to the fleet." The product line management approach allows for bi-level maintenance, configuration management and total asset visibility. He talked about their Surface Force Logistics Center located in Baltimore, MD and how they are able to centralize engineering, supply and logistics support there. He commented that they are nearly 100% complete in the product line integration process. He reviewed a maintenance costs per operational hour curve which showed how maintenance costs increase significantly towards the end of a vessels service life. They are using this information to determine when "Service Life Extension Program" (SLEP), or recapitalization is justified. He stated that their maintenance budget was running $433.3M. The breakdown has about 80% going to commercial and 20% is being kept in-house. 54% of their maintenance is planned. He stated that the benefits from this include: better mission support, CFO audit "clean bill of health," improved contracting, and meaningful metrics. He talked about the way ahead, stating a need for continued centralization of funds, improved metrics, a requirement to strengthen and mature product line management, and the need for a smooth transition from acquisition to sustainment. He also went over fleet sustainment and modernization stating that they were focusing on non-linear finite element analysis, operator guidance system, 3D laser scanning, in service vessel sustainment and new acquisitions. He highlighted the Polar Star reactivation success story, stating that this was a $90M, 3 year industry project which included main diesel engine upgrades, main gas turbine fuel control system work, main motor cleaning, main gas turbine renewal, reduction gear inspection and repairs, machinery control and monitoring system upgrades, installation of an open loop CPP system, after stern tube bearing redesign, gyro compass upgrade, central hydraulic system installation and small boat davit renewal.
Our final speaker was RADM Rowden, Director of Surface Warfare, N96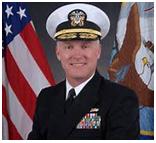 Admiral Rowden opened his remarks with his priorities which included top level guidance, CNO tenets and threat assessments. He talked on the need to support the rebalancing of the fleet to the Pacific, build to the future and make the "things we have today, work. He stated that the modifications to current Cruisers will be an enabler to deliver capabilities to the Navy that will "fill the gaps" they presently have. He discussed that there are "big budget issues" in 15. He stated that the phased modernization plan for the Cruisers is being worked out by N96. Current plan is to remove them from service, then execute full modernization on them. This gives the Navy a chance to extend the life of the CGs and ease the pressure on the budget. How it is going to happen still needs to be determined. He sees it happening in two phases, Hull, Mechanical and Electrical (HM&E), then combat systems upgrades. He talked about flight IIA for the DDGs, and how this flight is being modernized closer to their midlife, this increases the return on investment, increases high demand BMD capacity; and as capacity increases, it increases the commonality between the DDGs. He stressed that they are operating in a declining budget environment, with a rising cost of ownership, with expansive modernization, and that future replacement ships are need. He stated that "this all adds up to a decrease in relevance of ship maintenance and modernization needs and will result in readiness degradation. He commented that ships are being retired early instead of receiving modernizations because of the high costs associated with them. He concluded his remarks stating that the Navy needs a future flexible surface combatant which will have flexible designs and technology which will enable cost effective upgrades.
Notes by David Jack, PSSRA Board of Directors
PSSRA Associate Member: