In Memoriam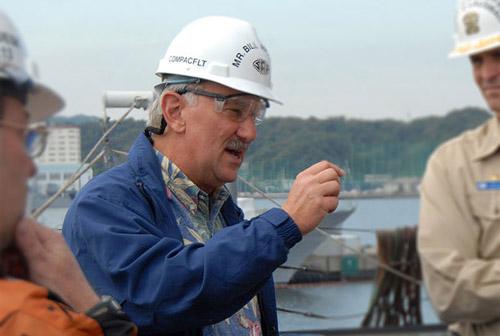 On the morning of October 13th, Mr. William H. Ryzewic (Ryz) passed away peacefully in his sleep.  To many of you Bill was a friend, mentor and a leader.  For the Puget Sound Ship Repair Association, Ryz was directly responsible for us forming as an Association and for helping us to get established within the Navy maintenance community.
At the pinnacle of his career, Bill served on the staff of the U.S. Pacific Fleet as the Fleet Maintenance Officer in Pearl Harbor, where he directed the planning, budgeting and execution of maintenance for the entire Pacific Fleet.  He was the first civilian ever to serve as the Fleet Maintenance Officer, a position held prior to and since by a Navy Flag Officer (Admiral).
In 2001, the Secretary of Defense awarded Ryz the Department of Defense (DoD) Distinguished Civilian Service Award, the highest civilian award given by the Department of Defense for his innovative leadership and technical expertise.  He also received a Presidential Senior Executive Service Award for meritorious service and a Presidential SES Award for Distinguished Service.
Those of us who had the privilege of knowing him understood him to be a patriot, who absolutely loved the Navy, and as one who cared very deeply for the brave men and women who take to the seas in defense of our nation.
Our industry has suffered a huge loss and has been diminished through his passing.  Ryz will be greatly missed.
In recognition of his great contributions to the Navy, the ship repair industry and to the PSSRA, a $100 donation was made in his honor to Dr. Shaw's ROS-1 Research Foundation at Massachusetts General Hospital.
PSSRA Associate Member: